Hi,
I recently bought this guy at "Jeff's General Store":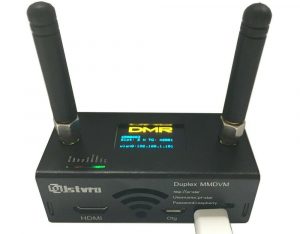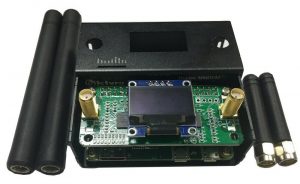 It's a JSTVRO MMDVM Duplex Hotspot. Really nice and tiny.
It has a Raspberry Pi Zero W with a "STM32-DVM / MMDVM_HS – Raspberry Pi Hat (GPIO)" MMDVM_HS_Dual_Hat piggybacked.
All setup went fine so far. The MMDVM_HS firmware 1.4.17 was delivered on the modem.
After a 'rpi-rw' and update/upgrade of the Pi-Star stuff, I tried to update the modem firmware via Pi-Star with
Code: Select all
sudo pistar-mmdvmhshatflash hs_dual_hat
which ends up in a
Code: Select all
:
Using Parser : Raw BINARY                                                            
Interface serial_posix: 57600 8E1                                                    
Failed to init device.
:
It took me several days to investigate the reason for that.
Finally I found out, that there is obviously a design incompatibility at the MMDVM_HS Hat:
The connection between pin 40 of the RPi Zero W connector to pin 7 of the STM32 (NRST) is missing. With appropriate tools (microscope, fine soldering iron, ...) the missing connection can be wired.
Then a connection between pin 4 (to STM32 BOOT1/PB2 via 10k) and pin 6 (GND) of the unpopulated 6-pin header footprint must be made. As far as I see, this connection can stay like in other MMDVM_HS designs after programming.
With these modifications it was possible to update the MMDVM_HS_Dual_Hat from 1.4.17 to 1.5.2.
Hope this helps...
73, Thorsten